October 19, 2021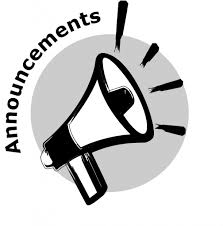 ---
On October 19, 2009,The international version of Amazon's Kindle 2 was released.

Yearbooks are still on sale for $45.00. Also, 8th grade ads are being sold for $20 (1/4 page), $40 (half page), and $80 (whole page). See Mrs. Brown for more information.

Congrats to the softball team yesterday against the Temple Tigers. Their post season play continues this afternoon. They will be traveling south to Heard Co to do battle with the Braves. Good luck girls!

Our academic team didn't place in yesterday's match, but they were commended on how well they represented MZMS and worked together as a team. That speaks of their character! Good job academic team!

Wrestling practice starts Monday, the 25th. You will need a current physical and parental permission form on file to practice. If you have any questions, please see Coach Richardson in room 202!

Basketball tryouts will begin Monday, the 25th, immediately after school for both boys and girls. You need to have signed up with either Coach Banister or Coach Kribbs and you must have a current physical on file to be eligible to participate. If you have questions, girls need to talk with Coach Banister and boys need to talk with Coach Kribbs.

Fall Sports pictures and yearbook portrait retakes will be taken on Wednesday, October 27th. Order forms will be sent home with athletes later this week. Students, please plan on prepaying for your pictures.

Our football team will be beginning their post season play this Thursday as the number 2 seed in our division. We will be hosting the Temple Tigers at the MZHS stadium with kickoff being at 5:30. Come on out and show your support.

Report cards will be going with you this afternoon.
That's it for today. Good luck to our lady Eagles this afternoon. Play hard! Have a great day and Go Braves!
#carrythebanner #youwanttobeaneagle #eaglestrong