February 27, 2020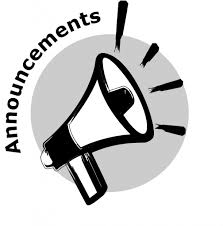 ---
Attention 7th grade students eligible for the field trip to the aquarium...today is the ABSOLUTE LAST DAY to turn in permission slips. Be sure you turn yours in if you've got it!

8th graders….tomorrow, the 28th, is the LAST DAY to place your 8th grade ad order!! Money, pictures, and text are all due this week. See Mrs. Brown for an order form or for more details.

MZMS Eagle Soccer season opens up this afternoon at Villa Rica. Good luck Eagles!

There are just a handful of yearbooks left to purchase...you don't want to be left out! Make that purchase!

The MZMS cheerleaders are selling AYP cards for $15. These cards offer discounts and deals to many local businesses and restaurants. Please see a cheerleader or Mrs. Buchanan if you're interested!

Any 8th girl interested in trying out for MZHS cheerleading... tryouts are next Monday - Wednesday, March 2-4, after school and you must have a current physical in order to try out. If you're interested, please pick up a packet from the front office.

End of 3rd 9 weeks countdown….11 school days! Now is the time to be checking Infinite Campus because if there's a grade that you don't like, you still have time to make it change.

GMAS countdown...38 school days!
Another nice afternoon is ahead of us. Might be a bit breezy and brisk, but it's also going to be beautiful. Here are some words to live by from the Chinese philosopher Lao Tzu:
As RAK Month comes to an end, think back on the Random Acts of Kindness you showed to others. Have a wonderful day!