September 14, 2021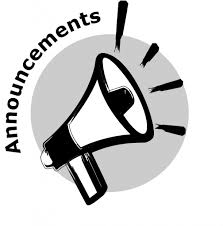 ---
On this day in 1814, Francis Scott Key wrote a poem titled The Defence of Fort M'Henry. This poem was later set to music, and in 1931 became America's National Anthem, the Star-Spangled Banner.

Happy birthday to Braydon Moore, Isaiah Coleman, and TT McMillian. I hope that each of you is made to feel extra special today!!!!

Good luck to our golf, softball, and cross country teams this afternoon. Golf will be battling against Bremen and Bay Springs at Tally Mountain Golf Course in Tallapoosa. Our softball team travels to Cedartown, and Cross country will be running at Gardner Newman in Lagrange.

Yearbook pictures will be taken on Wednesday, September 22 during the morning connections classes. *Make-ups and Fall Sports will be taken on October 27.

Yearbooks are for sale. The yearbook form is outside Mrs. Tewanna Brown's class which is room 304 and if you have questions just ask her while you are picking up a form.

If you can't get into your infinite campus, Mrs. Bennett or I can help. Come see us.

Remember to be working on your September reading challenge!
Again, good luck to our athletes this afternoon. Give it all you've got. And Eagles, it might be a good idea to bring a rain jacket or umbrella tomorrow because there is a chance for rain. Have a great Tuesday and I'll see you out and about!