February 24, 2020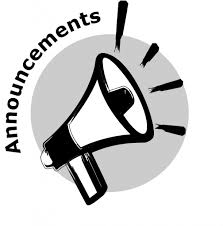 ---
Welcome back from Winter Break. I hope it was restful and relaxing.

Happy birthday, Sofiya Lynch! I hope you have an amazing day!

Good luck to our FBLA members who are competing in the State Leadership Conference in Covington today!

Our new school website will be live tomorrow!

Students, please check your school email and if you have an overdue notice, bring me the books!

Reminder to any 8th girls interested in trying out for cheerleading... tryouts are after school on March 2-4 and you must have a current physical in order to try out. If you're interested, please pick up a packet from the front office.

Tomorrow, the 25th, our soccer team will have a scrimmage against Bowdon at Bowdon and their season opening game will be Thursday the 27th, at Villa Rica.

And students...we will start the GMAS in 44 school days! Make sure that you're doing a little something extra each day to ensure that you're going to be successful!
Announcements were short and sweet this morning. Here's our kindness quote for the day!
Have a great day and try to stay dry!