October 7, 2021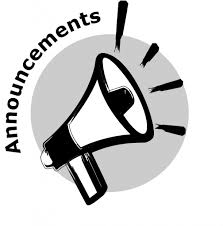 ---
On October 7, 1913, Henry Ford debuted the "moving assembly line" at his Ford Plant in Highland Park, Michigan. The assembly line reduced the time of manufacturing a car from 12 hours to 93 minutes!

We don't have any Eagle birthdays today, but we've got quite a few over the break. Happy Early birthday shout outs go to: Melissa Nunez-Becerra, Ayla Holland, Khloe Norton, Nigel Smith, Arabella Ashley, Elmer Saborillo, Jayden Ackey, Shaddric Hidgon, and Serina Sines. I hope you each have a great day on your special day!

Yearbooks are still on sale for $45.00. Also, 8th grade ads are being sold for $20 (1/4 page), $40 (half page), and $80 (whole page). See Mrs. Brown for more information.

Well Eagles...this has been a HOCO Week for the books! But remember it doesn't end at 3:20 this afternoon. There's the parade at 5pm, the football game starts at 6pm, and the crowning of our Queen and Princess will be at halftime. Remember it does cost $5 to get in the game.

Good luck to our ladies who are on the Homecoming Court: Gimena Mendoza, Rylee Walker, Leighann Camp, London Thompson, Kalynn Duke, Karma Rolling, Trystan Hembree, Ava Cannon, and Ziyanna Person. What an honor it is to be chosen by your peers to represent your respective grade levels and you are all winners in spite of the fact that only two will wear the crowns home.

Good luck to our Boys of Fall this afternoon in the Homecoming game versus the Heard Co. Braves.

Our MZHS Eagles will be hosting the Gordon Lee Trojans tomorrow evening for their Homecoming Game. Kick off is at 7:30 and don't forget that tickets can't be purchased using cash. You must pre purchase or use a debit/credit card at the ticket booth.

First 9 weeks ends today at 3:20pm!! And fall break starts tomorrow and ends on October 17th. Enjoy yourself, but be sure to make good choices.
Remember that we want our boys to feel our presence this afternoon on that field so let's fill up those stands! I want it to be so loud that our cheerleaders can hardly hear themselves cheer! I'll be looking for you at the parade and game. I'll be the one with the camera!
#carrythebanner #youwanttobeaneagle #eaglestrong