September 8, 2021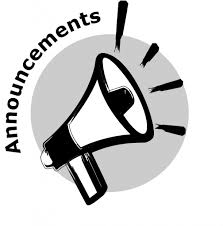 ---
Lady Eagles Softball team...hear these words from Coach Teal. "Congratulations to you girls for playing a hard fought game versus the best team in our small school division. Khloe Norton had a great day on the mound and our Lady Eagles made several good defensive plays in the field. I'm extremely proud of you for taking it to the wire against an excellent team. Go get a W against Temple tomorrow." They will be on the road again tomorrow against the Temple Tigers.

Good luck to our golf team today. They will be playing Bay Springs and Villa Rica Middle Schools at Fairfield plantation. Tee time will be around 4:00pm

Yearbook pictures will be taken on Wednesday, September 22 during the morning connections classes. *Make-ups and Fall Sports will be taken on October 27.

Our "boys of fall" will be hosting Cedartown Middle tomorrow afternoon. Kick off will be at 5:30pm. Also our Cross Country team will be running their meet at Bowdon Middle School tomorrow afternoon. The boys race starts around 4:30 and the girls will run immediately following the boys.

Today is the day we've been waiting for with anxious anticipation: midterms go home!!! If you've got a wonderful midterm that is awesome, but if yours needs a little work, you've got time. That's the great thing about midterms….they aren't permanent, but a checkup, so to speak.

Remember to wear your red, white, and blue Friday in honor of Patriot day, the day set aside for Americans to honor those who lost their lives on September 11, 2001.

Don't forget the September reading challenge and also check your school email for overdue books notices. If you have an overdue book, drop it off.
That's it for today. I want you to remember that we live in the home of the free
because
of the brave. Have a great day.