October 6, 2021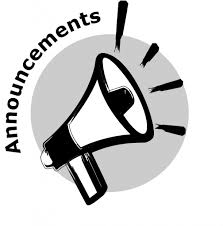 ---
On October 6, 1993, Michael Jordan retired from professional basketball, saying "I don't have anything else to prove," only to return to the NBA in March of 1995.

Guess who's birthday it is today???? Coach Fussell! Happy birthday, Coach, and I hope this is a great trip around the sun for you.

Yearbooks are still on sale for $45.00. Also, 8th grade ads are being sold for $20 (1/4 page), $40 (half page), and $80 (whole page). See Mrs. Brown for more information.

Teachers, don't forget to put the link for Homecoming voting in your 4th period google classroom.

Attn FBLA: Mrs. Brown would like to remind you about the waffle party for paid members tomorrow (Thursday) from 7:30-8:10. Please stop by Mrs. Brown's room to pick up your waffle and get information about upcoming events.

Homecoming week ends tomorrow with the theme song being "Our House" by Madness. That means we need to sport our red, white, and gray!!!

Tomorrow is the annual Homecoming parade for MZMS and MZHS. It starts at 5:00 and the parade route starts at Mitchell St. and ends at the MZ Post Office. The football game will begin at 6pm tomorrow with the Homecoming Queen and Princess being crowned at halftime! Make plans to attend. Remember it does cost $5 to get into the game.

Eagles, we are having a Homecoming Celebration TOMORROW, October 7! Pelican's Snoballs will be here to help us celebrate. Snoballs will be pre-sold during lunch today and today is the last day to purchase!. The cost is $3 and you will receive a ticket to redeem at the event. See Mrs. Wright at the teacher table to make your purchase. You're going to want a snoball even if you don't think you will right now! Don't miss out!

First 9 weeks ends this tomorrow at 3:20pm!!

One more early morning!!!
We want our presence to be felt tomorrow so be sure to wear Eagle spirit wear to school and let's fill up the STANDS with our Eagle spirit as well. Have a great day and do your best to stay dry!
#carrythebanner #youwanttobeaneagle #eaglestrong