October 5, 2021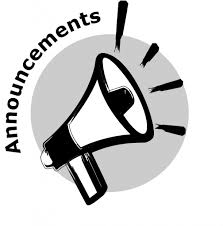 ---
On October 5, 2011, Steve Jobs, the visionary co-founder of Apple Inc., which revolutionized the computer, music and mobile communications industries with such devices as the Macintosh, iPod, iPhone and iPad, died at age 56 of complications from pancreatic cancer.

The softball game scheduled for yesterday has been rescheduled for Monday, October 18th.

Homecoming week continues tomorrow with the theme song being "Sweet Dreams are Made of These" by the Eurythmics. So you guessed it...it's PJ Day at MZMS. Wear your favorite pajamas, but remember they've got to be school appropriate!

Thursday theme song is "Our House" so wear school colors!

Eagles, we are having a Homecoming Celebration THIS Thursday, October 7! Pelican's Snoballs will be here to help us celebrate. Snoballs will be pre-sold during lunch this week. The cost is $3 and you will receive a ticket to redeem at the event. See Mrs. Wright at the teacher table to make your purchase. Today and tomorrow, Eagles...no purchases on Thursday. Don't miss out!

First 9 weeks ends this Thursday!!

You will be sleeping in on Friday!!! And we are all off next week, October 11-15, 2021, for Fall Break!
Don't forget that tomorrow's dressup theme goes with the theme song "Sweet Dreams are Made of These" so wear your most comfy sleeping attire! Once again, rain is in the forecast so you might not want to wear your favorite house shoes! Two more early mornings, Eagles. We got this!
#carrythebanner #youwanttobeaneagle #eaglestrong