September 9, 2021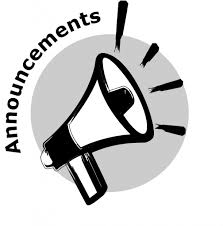 ---
Good luck to our softball, cross country, and football teams this afternoon! The softball team is heading east to the Temple Tigers territory, our cross country team is venturing into Red Devil country for their meet and our football team will be hosting Cedartown Middle! Give it all you've got Eagles and let's bring home wins and personal bests!!

Happy birthday to Miss Elasia Higdon and Mr. Josh Williams! I hope this next trip around the sun is kind and memorable.

Yearbook pictures will be taken on Wednesday, September 22 during the morning connections classes. *Make-ups and Fall Sports will be taken on October 27.

Did you show your parents your midterm??? If not, you need to do so. Hiding it won't help you out.

Don't forget to wear your red, white, and blue tomorrow in honor of Patriot Day.

Remember to be working on your September reading challenge!
Today is
Thankful Thursday
and I am thankful for my freedom. Don't forget to wear patriotic colors tomorrow. It's supposed to be a beautiful afternoon with low humidity. Get outside and soak up some sun. Have a great afternoon!