October 22, 2021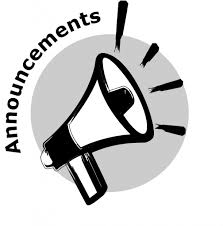 ---
On October 22, 1797, a French man completed the first noted parachute jump from a hydrogen balloon 3800 ft above Paris.

Also on this day, Miss Calen Morse was born. Happy birthday, Calen and I hope you are made to feel extra special today. Tomorrow, Michael Lopez-Rivera, Laila and Raina Muse, Khazyia Ackey, and Coach Cohen are starting their next trip around the sun and then on Sunday, Mrs. Tewanna Brown will be turning a year older. I hope everyone has a great day and that you have lots of happy on your birthday.

Today random prizes will be given out during lunch from our lunchroom staff in honor of National School Lunch week. Good luck...maybe you'll be a winner!

We will begin celebrating Red Ribbon Week next week. The overall school theme is "Eagles Are Too Smart To Start". Monday's dress up theme will be "Drug Free Looks Like Me" and will be twin day! Students will receive information on the themes for each day today during 7th period today. We will begin Monday morning with the Drug Free Pledge. There will also be a poster contest for which students can use the overall theme or any of the daily themes!

FBLA members need to bring in your bag of candy to Mrs. T. Brown for Trunk or Treat by Monday, October 25. Volunteers are also needed to decorate the trunk.

Jr. Beta is participating in "Sock-tober" which is a sock drive designed to help local people in need during the cold months. Crazy, cool, wool or cotton….all socks are welcome but they must be new socks! Also, Jr. Beta members, you need to give your bag of candy to Mrs. Crumbley by next Friday, the 29th, for the Truck or Treat event on the 30th.

Picture money is due by next Friday, October 29th. Give it to your 1st period teacher or Mrs. T. Brown. Fall sports pics and yearbook picture retakes will be Wednesday, Oct. 25th. Coaches should have given the order forms to their players because the sports pics need to be paid for upfront.

Any student who is interested in competing in the Carroll County Schools Technology Fair should see Mrs. T. Brown in Room 304 to get details and sign up for an event. Registration is due by October 29 and no late entries will be accepted (per CCS).

Unfortunately, our football season came to an unexpected end yesterday afternoon. Temple defeated us by a score of 30-8. It's sad when seasons end, but it's even more sad when they end unexpectedly. Good luck to our 8th graders as they move on up to the high school level and to our 6th and 7th graders, work hard in the off season to get better.

The high school football team travels to Bowdon this evening. It's a "white out" so if you go be sure to wear your white. Also remember that tickets must be purchased online or with credit/debit card at the game. And good luck to our marching middle school band members! Play loud and proud!!!

Yearbooks are still on sale for $45.00. Order forms can be found outside Mrs. Brown's door, room 304. The forms as well as the QR codes were posted on our Facebook page and website. Parents can scan the code to download the form.

Wrestling practice starts Monday, the 25th. You've got to have a physical and a parental permission form on file to practice. If you have any questions, please see Coach Richardson in room 202!

Basketball tryouts will begin Monday, the 25th, after school for both boys and girls. You've got to have a current physical and parental permission form on file. If you have questions, girls need to talk with Coach Banister and boys need to talk with Coach Kribbs.

Good luck to our cheerleading squad. They will be competing in the Dawson County competition tomorrow. May you stick all of your stunts and secure all of those bobby pins!
That's it for today. Happy Friday. Have a great day and an even better weekend.
#carrythebanner #youwanttobeaneagle #eaglestrong