November 12, 2021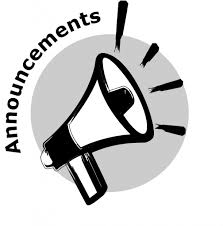 ---
On this day in 1799, Andrew Ellicott, an early American astronomer, witnessed the Leonids meteor shower from a ship off the Florida Keys. Ellicott wrote in his journal that the "whole heaven appeared as if illuminated with sky rockets, flying in an infinity of directions, and I was in constant expectation of some of them falling on the vessel. They continued until put out by the light of the sun after day break." Ellicott's journal entry is the first known record of a meteor shower in North America.

Good luck to our wrestlers that are competing in the Screaming Eagle Tournament tomorrow. Remember that the tournament is at MZHS.

Mt. Zion United Methodist church is offering a free movie night this Saturday evening, November 13th, from 6:30-9:00pm, rain or shine. There will be s'mores, hot chocolate, and awesome raffle prizes. Remember, it's free!

Happy birthday to Ian Rivers and Kali Stroud. I hope you both have a day full of happy! Tomorrow, Zachary Purvis is starting his 14th trip around the sun and Ms. Ezzell will be starting her 56th trip, and then on Sunday, Brian Thomas, London Thompson, and Kyo Seuth will be celebrating. I hope this is your best year yet.

Midterms will go home with you this afternoon!

The MZH Football team will travel to Lincoln County tomorrow, 11/13, to play in Round 1 of the GHSA playoffs. Tickets are available ONLY through GoFan. Due to the possibility of connection issues at Lincoln County, please have your tickets ready on your phone BEFORE getting in line for admission. Screenshots are NOT accepted. Good luck to our varsity boys of fall and to our marching band members!
Hallelujah it's Friday! And that...is...all!
#carrythebanner #youwanttobeaneagle #eaglestrong