October 21, 2021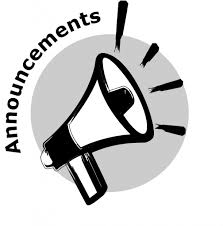 ---
On October 21, 1940, Ernest Hemmingway's novel For Whom the Bell Tolls was published.

We will be celebrating Red Ribbon Week next week. Students will receive information on the themes for each day tomorrow during 7th period.

Tomorrow is hat day Eagles so bring your $1 and wear your favorite hat...but remember it can't distract students in the classroom.

FBLA members need to bring in your bag of candy to Mrs. T. Brown for Trunk or Treat by Monday, October 25. Volunteers are also needed to decorate the trunk.

Jr. Beta is participating in "Sock-tober" which is a sock drive designed to help local people in need during the cold months. Crazy, cool, wool or cotton….all socks are welcome but they must be new socks! Also, Jr. Beta members, you need to give your bag of candy to Mrs. Crumbley by next Friday, the 29th, for the Truck or Treat event on the 30th.

Fall portraits went home with you yesterday! If you are purchasing pictures, please return the proof envelope and payment by next Friday, October 29th. You may turn it in to Mrs. T. Brown in Room 304, or to your 1st period teacher.

Athletes and Coaches - Fall sports pictures will be taken next Wednesday, October 27. These are pre-pay and order forms will be sent home this week. Also, yearbook picture retakes will be the 27th for those students/teachers who were absent on the day portraits were made.

Any student who is interested in competing in the Carroll County Schools Technology Fair should see Mrs. T. Brown in Room 304 to get details and sign up for an event. Registration is due by October 29 and no late entries will be accepted (per CCS).

For golf news, Ryder Head turned in the best score from the MZMS this past Tuesday and Conner Hewett turned in the 2nd best score for Mt Zion. Hunter Prewett, Roy Rogers, Tristan Madlock, and Cain Corley all turned in highly respectable scores, as well. Abi Kinney gave her opponents a run for their money in the girls tournament yesterday afternoon. All golfers on both the girls and boys teams have demonstrated tremendous golf etiquette and excellent Mt Zion spirit throughout the season. They have represented MZMS well no matter who they competed against or which golf course they played on. Well done, Eagles.

Yearbooks are still on sale for $45.00. Order forms can be found outside Mrs. Brown's door, room 304. The forms as well as the QR codes were posted on our Facebook page and website. Parents can scan the code to download the form.

Wrestling practice starts Monday, the 25th. You've got to have a physical and a parental permission form on file to practice. If you have any questions, please see Coach Richardson in room 202!

Basketball tryouts will begin Monday, the 25th, after school for both boys and girls. You must have a current physical and parental permission form on file. If you have questions, girls need to talk with Coach Banister and boys need to talk with Coach Kribbs.

Good luck to our football team this afternoon. Remember they're playing Temple Middle at the high school stadium in the first round of playoffs. The game starts at 5:30. I know they would love to have the stands full!
That's it for today. Happy Friday eve and good luck to our Boys of Fall! Go Braves!!!!
#carrythebanner #youwanttobeaneagle #eaglestrong